Bicycling provides a healthy and affordable mode of transportation but there are risks. How risky is riding a bicycle? What should you do if you're involved in a bicycle accident?
How high is the risk of accidents for cyclists?
Far fewer people are injured or die in bicycle accidents than motor vehicle accidents but it isn't because bicycles are safer. Depending on which statistic you use, people travel between 6.2 and 21 billion miles on bicycles and about 3 trillion miles by motor vehicle.
Bike accident statistics report of the number of miles bicycled in a year at between 6.2 and 21 billion miles, you're 11.5 times more likely to experience a fatal accident on a bicycle than a motor vehicle using the 6.2 billion miles statistic. If you use the 21-billion-miles statistic, it equates to 3.4 times greater risk.
It is important to remember that bike accident statistics include people who don't follow good safety precautions, follow the rules, wear helmets, and those who ride a bike when they are under the influence.
Nevada Bicycle Accident Statistics:

In 2016, there were 800 cyclists killed in single-car crashes in Nevada.
Nationwide, 34,247 people were killed in traffic accidents and 783 died in fatal bike accidents during 2017. In Nevada, six people died in cyclist accidents and 328 were lost in traffic accidents.
Crash statistics reveal some interesting facts about when and where accidents occur:
71% of cyclists' accidents occur in urban areas
In every season, more accidents occur between 6 – 9 pm than at any other time
58% of cycling accidents are not at an intersection. Only 4% are in a bike lane.
51% of bike accidents occur during daylight hours.
Most happen on roads with speed limits between 35 and 45 mph.
Most Dangerous Places and Times
These bike accident statistics are referring to fatal accidents:
71% occur in urban areas.
Fatalities are more likely to occur in areas with high poverty rates.
Only 30% occur at intersections.
4% occur in the bike lane.
51% happen during daylight.
More occur between 6 – 9 p.m.
30% happen in the winter, 22% in the spring, 38% are split between the summer and fall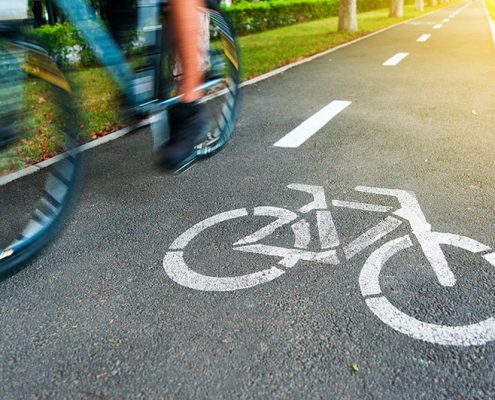 In Las Vegas, 19 intersections reported four or more accidents between 2011 and 2015. Las Vegas Blvd at Caesars Palace Drive, Nellis Boulevard at Cedar Avenue, and Las Vegas Blvd at Flamingo Road were the three most dangerous intersections.
Las Vegas Boulevard, Charleston Boulevard, and Flamingo Road are the three most dangerous roads for cyclists in Las Vegas with Sahara and Tropicana Avenues also reporting high accident rates.
Accidents frequently involve rider error including not yielding the right of way, riding against traffic, failure to obey traffic laws and signals as well as errors by the drivers of motor vehicles involved in the accident with the cyclist.
According to 24/7 Wall Street, Las Vegas is the third most dangerous city for bicyclists. The Regional Bicycle and Pedestrian Plan for Southern Nevada reported that when a cyclist and vehicle collide, the cyclist has an 89% chance of survival at 25 mph but only a 35% chance when the vehicle is traveling 45 mph.
Safe Places to Ride a Bicycle
Numerous trails around Las Vegas are great places to ride and safe for everyone. Try these rides if you're looking for a safe and relaxing place to ride:
Burkholder Trail
Historic Railroad Trail
Wetlands Park
Pittman Wash Trail
Union Pacific Railroad Trail
Cornerstone Park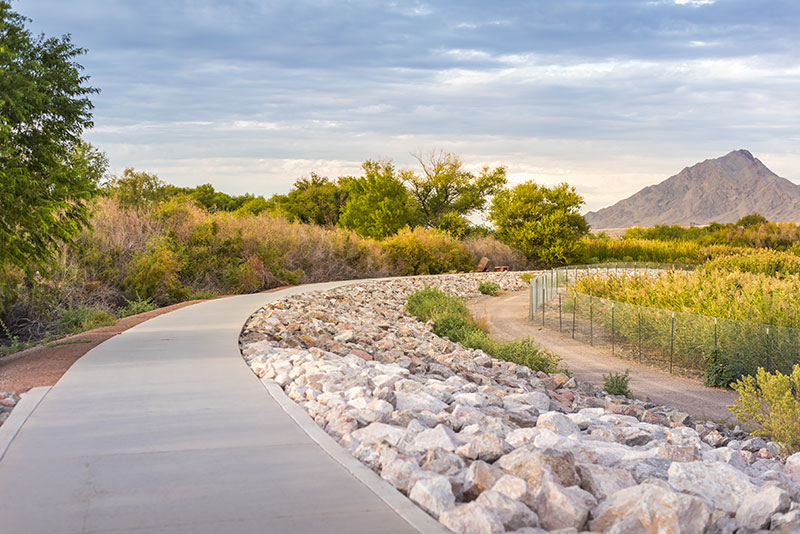 Common Bicycle Accident Injuries
The Nevada bicycle helmet law does not require riders to wear a helmet, but it is strongly recommended. Wearing a helmet can save lives. Many bike injuries occur without an accident but those are usually muscle strains. Bicycle accident statistics for accidents reflect more serious problems including:
Head traumas
Spine injuries
Ruptured discs
Skull fracture
Cranial hemorrhage
Concussions
Contusions
Fractured bones
Injuries to internal organs
The greatest risk is head trauma which accounts for 60% of the deaths which is why helmets are important.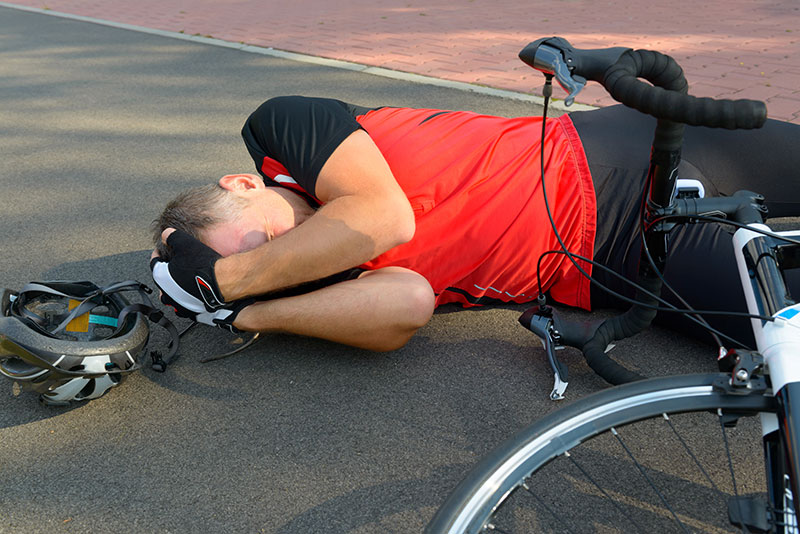 What to do if you got in a bike accident?
Bicycle accidents can cause serious and life-threatening injuries. If you are in an accident, you'll want to do a body scan for injuries. If in doubt, get professional medical attention. Signs you should seek immediate medical attention include pain when you breathe deeply, stomach tenderness or you hit your stomach on the handlebars, head injuries, and bleeding. If you think you may have a spine or neck injury, don't move until medical attention arrives.
If someone else caused the accident, get their contact information and call a Las Vegas bike accident attorney. Their insurance should compensate you for your medical expenses as well as lost wages and pain you experience as a result of their negligence. Never hesitate to contact a Las Vegas personal injury lawyer in such chaotic instances because you deserve to get compensation from all the damage that you encountered during the tragedy.