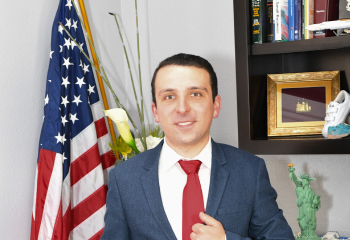 LEVON VARDANYAN
Levon joined Nevada Legal Group in March of 2020. He has since been able to assist the firm in expanding their area of practice into immigration law while assisting with personal injury, property damage, business, small claims and criminal matters.
Levon began his journey in the field of law when he immigrated to the United States in 2007 to further his education. He obtained his BA in Political Science from St. Lawrence University in Canton, NY where he was able to attend with a full International Student scholarship. He then moved on to attend law school at the University of Dayton School of Law where he was able to obtain his Juris Doctorate in a two-year accelerated program again being recipient of multiple merit scholarships.
Upon receipt of his JD, he decided to escape the cold and move to Los Angeles, CA where he worked in the foreclosure defense litigation area of law for three years. Regardless of his involvement in real estate and personal injury law, Levon never forgot his passion for immigration law. His interest in immigration law stems from being a "double immigrant" himself as he was born in Armenia and lived in Mexico since the age of five until moving to the United States. Even before attending law school, he has helped many people obtain their permanent residency, asylum and citizenship allowing them to legally live and work in this country.
In early 2020, Levon and his wife Artemis decided to relocate to Las Vegas to further pursue their careers. They have since had a Vegas born son, Harutyun, and enjoy working and living in this great community.
In his spare time, Levon enjoys traveling, spending time with his family and friends and being outdoors as much as possible.
EDUCATION:
BA, Political Science, St. Lawrence University
JD, University of Dayton School of Law
LANGUAGES:
Armenian
Spanish
French
English